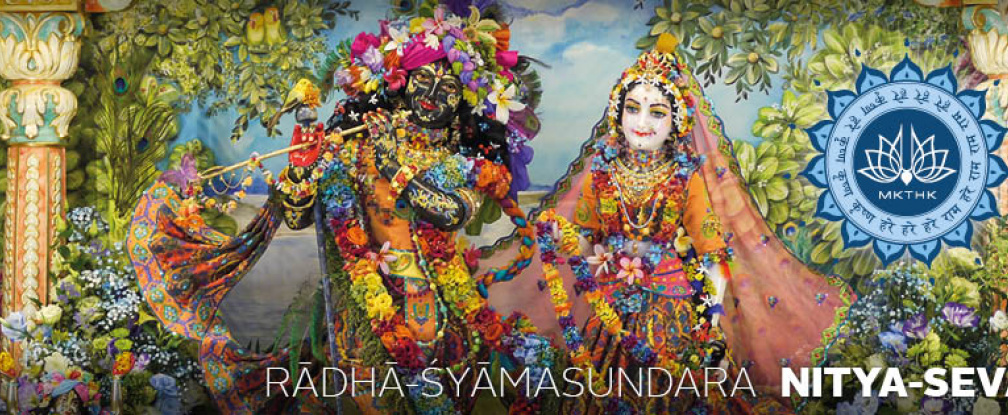 53rd issue - Nitya-seva Newsletter
 February 2020.
Dear Devotees,
Throughout the ages, in all countries, cultures and traditions, art has always been an inspiration. Srila Prabhupada encouraged those who showed talent in the arts to serve Krishna with all their skill. Hence, His Divine Grace's books are filled with "windows to the spiritual word," and temples beautified with wonderful paintings depicting the Lord's pastimes.
The wonderful artwork displayed in New Vraja Dhama testifies to the fact that this tradition is still flourishing. Wherever one looks there are beautiful depictions of the spiritual world. The temple room is decorated with Krishna's pastimes portrayed through delicate and captivating wall paintings. Throughout the year, the altar is adorned with elaborate flower arrangements, beautiful flower garlands and magnificent hand-painted backdrops. Sri Sri Radha-Syamasundara's faces, hands and feet are regularly and intricately painted. Even the clothes worn by Their Lordships are meticulously designed, often hand-embroidered or hand-painted. And though it may seem impossible, on festival days everything is pushed up a few notches!
Of course this all means that the pujaris and artists of New Vraja Dhama are always busy at work. Through their invaluable service they enable even the newest visitor to perceive the spiritual world upon entering the temple of Sri Sri Radha-Syamasundara.
In January of this year, Mohana Dasa, a member of our Nitya-seva team, was invited by a friend, Barna, to visit ISKCON Radhadesh in Belgium to assist in the opening of his art exhibition at MOSA (the Museum of Sacred Art). Barna is a graphic designer and artist who lives in the south of Hungary. He and Mohana Dasa met some ten years ago whilst Mohana was selling books on the streets of Budapest. He bought a book and the two remained in contact over the years.
Some time after their initial meeting, Barna desired to purchase and read the entire Srimad-Bhagavatam. He explained that when he reads the Srimad-Bhagavatam, he feels like he is not reading the book but rather the book is reading him. It is like the book knows which questions are on his mind and answers them. Also, amazingly, he explained the book has answered other questions that he didn't even know he had or was unable to articulate!
So through his experiences whilst reading, and with continued association, Barna became a sincere follower of Krishna consciousness. Then, about three years ago, whilst chanting, Barna became inspired to embark on an artistic journey. He decided to complete 108 digital art pictures centring on key pastimes from Srimad-Bhagavatam, Ramayana, Mahabharata and Caitanya-caritamrita. Through taking guidance from devotees he has already completed 68 such pieces of digital art. These pieces came to the attention of Mahaprabhu Prabhu, the owner and founder of MOSA in Radhadesh. Mahaprabhu Prabhu was so impressed by the originality and ingenuity of the artwork that he decided to sponsor an exhibition of these pieces at his MOSA. The opening event of this exhibition was so inspiring to Barna that he promised Mohana Prabhu he would sponsor a Nitya-seva day for the pleasure of Sri Sri Radha-Syamasundara!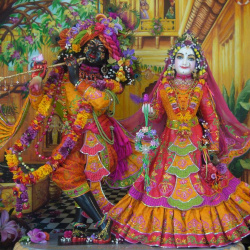 Barna has become so inspired that he also wants to engage others in the service of Their Lordships. He and his wife have established a Waldorf School and community in their city. He holds weekly meetings about the Vedic culture and shares what he has learnt. At these meetings, he encourages attendees to also become sponsors of the Nitya-seva program. How wonderful it is that Barna is using his artwork to show the world of Krishna's pastimes and furthermore, engage his friends in the service of Radha-Syama!
 
Sri Sri Radha-Syamasundara ki jaya!
On behalf of the Nitya-seva team
your servant,
Syamajiu Dasi
9th March 2020, New Vraja Dhama