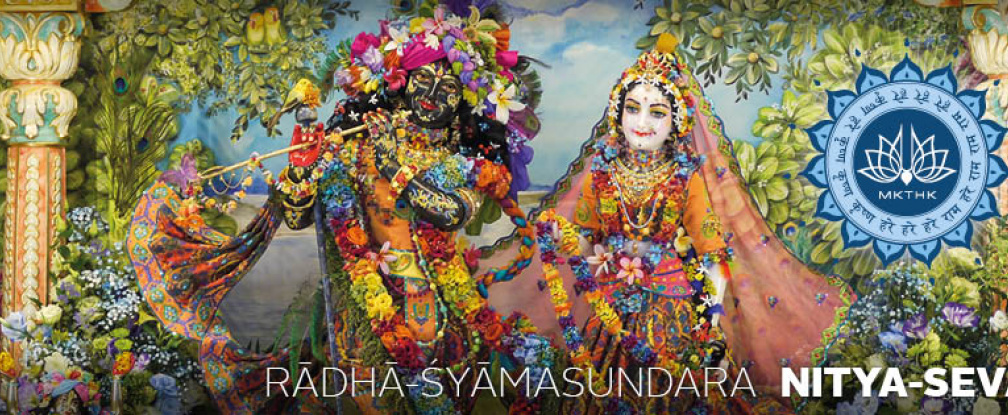 52nd issue - Nitya-seva Newsletter
 January 2020.
Dear Devotees,
January is not just the beginning of a New Year, but for many it also provides an opportunity for new beginnings; a time for reflection and for making New Year's resolutions.
Those of you who have visited New Vraja Dhama know of its splendour. And those fortunate enough to have even glanced at the beautiful forms of Radha-Syama have no doubt been captured by Their grandeur and mercy. Indeed, many who have passed through the entrance gates have commented on how they immediately sensed a change in the atmosphere as some unseen, often unknown force overtook them. We know that force to be the ocean of transcendence emanating from Radha-Syama, as a divine reciprocation for the dedicated service They receive from devotees the world over.
When I asked a few devotees living on the farm about the kind of reciprocation they have had with Radha-Syama, many spoke of how they could very clearly sense Radha-Syama's presence, guidance and protection in their lives. That presence could be seen in even the smallest of incidents; having a need for something, which would then magically manifest of its own accord, or having a burning question that would be answered the following day.
One of the new members of our community mentioned how being allowed to live in New Vraja Dhama itself had been such an incredible experience. She explained: "I have visited many temples and farm communities around the world, but I have never seen anything that comes close to this. I heard about New Vraja Dhama numerous times since I joined some years ago and I always had an attraction to come and visit, but I never did. I think I wasn't then ready for it. However, having got the opportunity to see some pictures of the deities, I could never forget Radharani's beauty. Additionally, I very much desired to meet Srila Sivarama Swami, since he is so well known and respected in ISKCON. Eventually when the time came for me to actually set foot in New Vraja Dhama, I felt so fortunate. Over the short time that I have lived here I feel that it has been a life transforming experience. I can personally feel Radha-Syama's presence in my life and I know that They are constantly forming and shaping me to be a better devotee and a better person."
Some things just cannot be explained with words or logic, but those who have sensed Radha-Syama's influence in their lives simply know it to be true. Thus they carry with them the gifts Radha-Syama have so mercifully bestowed unto them like valuable jewels.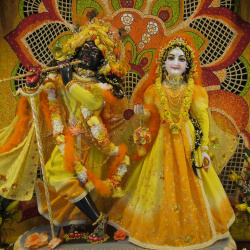 And so many of you have experienced that mercy, including our latest Nitya-seva donor; a family originating from India but now living in the UK. Their story is one of dedication, patience and natural attraction to Radha-Syama. Two-and-a-half years ago, a lady and her father arrived at the Budapest Temple for the Sunday feast program. They were visiting Budapest from Nottingham and wanted to come and take darsana. They were kindly offered a ride to New Vraja Dhama by one of the devotees in Budapest and the family happily accepted the invitation. Srila Sivarama Swami, fortuitously, was in New Vraja Dhama at the time, and was glad to see them as he has known the family well for close to 30 years. The mother, who had passed away a few years earlier, was visited by Maharaja on her deathbed and actually left her body while he was on the phone with her. After being shown around the farm and having a short presentation about the Nitya-seva program, they were asked if they would like to help. The father, who had not said a word during the entire visit (due to not being very proficient in English), finally spoke and confirmed that they would like to sponsor a Nitya-seva day.
The man's son, who was in Nottingham at the time, was in charge of the family finances and so it was necessary to speak to him first. Some time passed by without the family placing their donation. Although we stayed in touch with them over the years and even visited their home and had a nama-hatta program, the son was always one step away from actually making the donation. Finally, in January, just a few days before we were supposed to visit the family in Nottingham once again, the father enquired if we had received his payment. Surprised, we were delighted to see that his payment had gone through. The family chose the birthday date of the mother as their Nitya-seva day and in this way they were able to provide eternal benefit for her soul and for all the members of the family.
For this family, perhaps the New Year's resolution had been to finally make that life-changing step of serving Radha-Syama and thus eternally opening themselves up to Their mercy. For us it can be the same as we make deliberate steps closer to the Lord through our service, our donations and diving deep into our own spiritual practices.
Jaya Radha-Syama!
In the name of the Nitya-seva team your servant,
Syamajiu Dasi
12th February, 2020., New Vraja Dhama