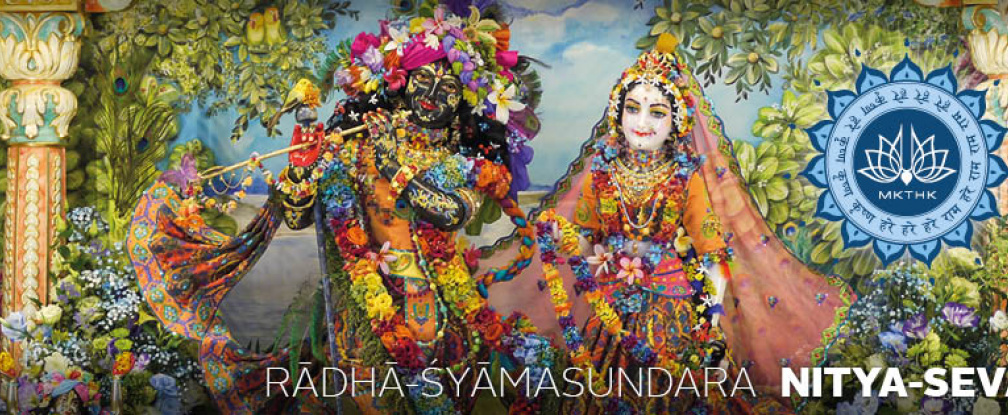 50th issue - Nitya-seva Newsletter
November, 2019.
 Dear Devotees,
The unusually warm temperatures this November allowed our agriculture department to get some extra work time before the inevitable cold weather and frost settled just in just at the end of the month and proved to everyone that it was true…winter had finally arrived. In the wake of the dropping temperatures only one stalwart volunteer remained working hard in the different gardens and guests were few and far between. 
Even devotees seemed to be decreasing in numbers but the cause was not the dropping temperature. The most enthusiastic book distributers were warm in the fire of distributing Lord Caitanya's mercy and launched their book distribution effort two weeks before the official beginning of the Srila Prabhupada Marathon which was November 24. With many devotees gone, New Vraja Dhama seemed to enter a period of hibernation, and will remain anxious in anticipation until the sankirtan devotees return home.
The Budapest devotees, who distribute books all year round, also became swept up in the marathon spirit and wanted to get started as soon as possible so they hit the streets on November 21st. The especially high goals this year have inspired the devotees to remain eager to work extra hard despite the increasingly cold weather.  Anxious to help distribute record-breaking amounts of books those remaining on the farm are offering assistance by praying for a successful marathon and covering all the regular services back at the temple. In this way everyone in New Vraja Dhama and in Budapest is participating in the Marathon.
Perhaps picking up the marathon enthusiasm three new Nitya-seva donors came forward in this month when the gift giving fever is high. One of our current Nitya-seva contributors signed up for an additional pledge in the name of his deceased brother.  A second Nitya-seva patron, a couple from Budapest, was a first-time contributor. 
The third Nitya-seva donor had also participated in the program previously. This donor is a long-time devotee who, over the years, has generously sponsored many projects for both Radha-Syamasundara and Gaura-Nitai. A few years ago, he was asked if he could increase his donation to one of these projects. It was just after his business had collapsed.  Despite his financial difficulties he was very eager and determined to please Sivarama Swami and the Deities, so he decided to do his best and collect the desired amount. In the end he managed to gather the needed money and learn an important lesson as well. He learned that even when his business endeavors fail, if he remains fixed in his desire to please Guru and Krishna, success is assured due to Their mercy. It was a lesson that would prove valid on many future occasions.
Since this donor had joined the Nitya-seva program when it was operating under a previous system, he increased his payment to the current price. Furthermore, he desired to sponsor a Nitya-seva pledge in the names of his two brothers. Thinking they would not want to pay the entire amount he asked each of them to give a quarter of the cost and then he would make up the difference. The result: One of his brothers donated and his second brother is one of this month's new Nitya-seva donors. Simply telling them that they would get undying benefit was sufficient to convince them to make a pledge. It is inspirational to see how he could convince his brothers, who are not active devotees, to participate in supporting the long-term care of the temple and the Deities.  However, our donor did not stop there. He went on to convince two of his friends to become Nitya Seva donors and is already planning how he will inspire his parents to do the same.
Jaya Radha-Syama!
In the name of the Nitya-seva team your servant,
Syamajiu Dasi
9th December, 2019., New Vraja Dhama