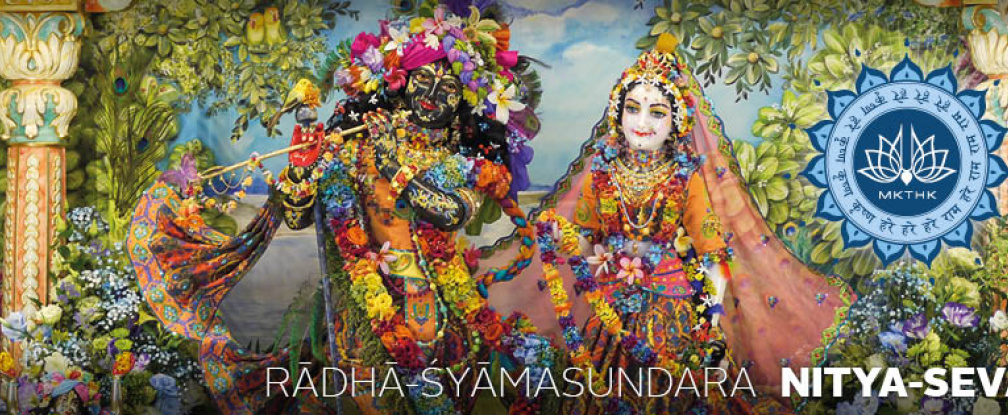 45th issue - Nitya-seva Newsletter
June 2019.
 Dear Devotees,
June, confirming the arrival of summer and summer vacations, signifies the onset of the busiest time of the year for us at Krishna Valley. As visitors start pouring in on a daily basis, showing us, not merely on weekend but also on weekdays, and as volunteers become a more frequent sight in our agricultural fields and other departments, June is a time for us to open our doors and hearts and introduce Radha-Syama to all who (knowingly and unknowingly) came to see Them.
This month we hosted our yearly Henna festival and were happy to entertain a crowd of 850 visitors during this one-day event. Later in the month, Sivarama Swami's online preaching efforts bore some of its many fruit as 12 guests from around Europe came to stay at our local Radhe Resort for a one-week retreat with Maharaja. Enjoying daily lectures, activities and late night kirtana, the event was a huge success as all those who attended attested to the immense spiritual invigoration they gained from this experience.
The month ended with a bang at the Budapest Ratha Yatra with hundreds of people witnessing the massive parade celebrated with kirtan, dancing and pure joy which ended at the Városliget where many activities and transcendental food awaited the visitors. We were glad to have seven more volunteers come and stay with us while they help us out mainly in our vegetable garden and restaurant. It was so uplifting passing by the breakfast and lunch tables seeing these new faces beaming as they are all engaged in conversation with fellow volunteers and residing devotees. All these volunteers had little to no contact with Krishna consciousness before coming to the valley and all of them left with a taste for more.
In June, two new donors started paying their Nitya Seva donation in installments. Also, one of our donors, who paid his Nitya-seva at the time when it was the old amount of 1.1 M HUF, has now decided to raise his donation to the currently higher amount. On top of this, we were thrilled when one of our existing donors decided to donate their second Nitya-seva. This lady's story is inspiring as two years ago, living in the UK, she went door to door to collect the full amount for a Nitya-seva donation. Ever since then, she wanted her husband to participate as well, but because he is not a practicing devotee like her, his interest in donating for Radha-Syama was nil. Reasoning with him that considering they have no son who could offer them pinda after their death (a special Indian ceremony for the benefit of the departed soul), this donation will allow that once a year service to Radha-Syama will be done in their names for eternity. Being convinced of the good cause, he agreed to donate and now they have as a family a second Nitya-seva.
Another inspiring story from one of our donors, told by Mohana Dasa, is that of yet another "friend of Krishna". This story begins five years ago when Mohana was invited to the funeral of a donor, Gyula. Mohana met this gentleman on the street and a close relationship quickly developed between Mohana, Gyula and his wife. Although being devoted Catholics they were happy to donate on a regular basis and Gyula even participated in programs at the Budapest temple, meeting with Sivarama Swami on a few occasions. Invited by the wife to the funeral ceremony, Mohana, dressed in his brahmacari clothes, was invited to say a few words about the departed man. In his speech he emphasized the eternity of the soul and glorified Gyula's generosity and open mindedness. Half a year later, while distributing books on the street he stopped a lady who immediately recognized him from that same funeral ceremony. Emotional, she revealed that she is a friend of Gyula and told him how she found his talk to be inspirational. From that moment on she too became a regular donor, so much so that when Mohana asked her a few years later to sponsor a Nitya-seva, she was happy to do so. Mohana believes that when accepting her kind Nitya-seva donation, Radha-Syama also accepted part of it as coming from Gyula, as it was only due to Mohana being at his funeral that he could meet with this kind-hearted woman. Gyula's family continue to donate on a regular basis and who knows, maybe one day they too will become Nitya-seva donors!
Jaya Radha-Syama!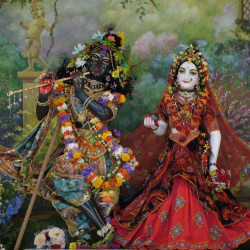 In the name of the Nitya-seva team your servant,
Syamajiu Dasi
10th July, 2019., New Vraja Dhama