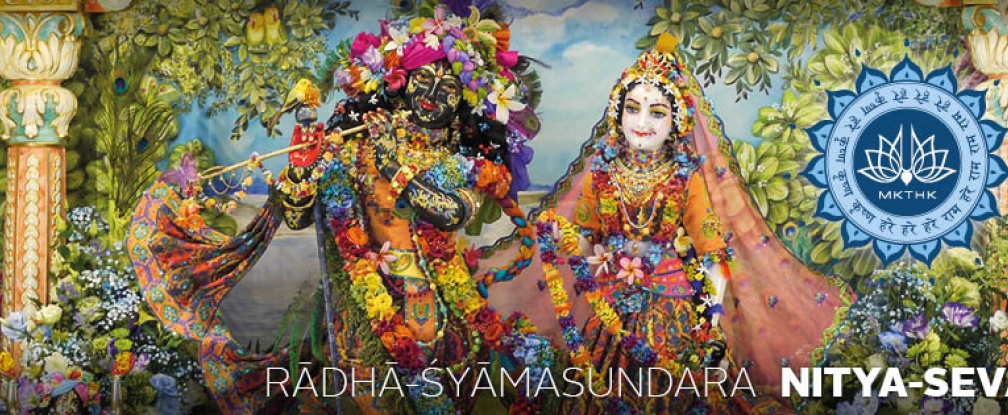 33rd issue - Nitya-seva Newsletter
 June 2018.
 Dear Devotees,
During June we had the good fortune of His Holiness Lokanath Maharaja paying a visit to Krishna Valley after nine years!  So whilst he was here he took us on pilgrimage around New Vraja Dhama'sholy sites and needless to say the kirtanas and the kathas experienced were nectarian!  On the first day we walked to the pastime places with Govardhana Lal, but on the second day as the weather had cooled down a lot with rain, we sheltered in the temple room and along with Radhe Syam we all listened to the wonderful pastimes there. 
A few days later we held our annual Bhakta Sanga gathering / festival at the Budapest Temple where – besides a few other topics - we celebrated Krishna Valley's 25th anniversary! Yes dear friends! ...Amazingly it was 25 years ago that the devotees discovered this piece of land by the desire of Radha-Syama, and the building of Their temple along with land cultivation began to  take place.  The devotees who were living here in those early days certainly underwent many austerities in the service of Radha-Syamasundara.  They worked so hard in their efforts desiring to help fulfil the wishes of Srila Prabhupada and His Holiness Sivarama Maharaja to manifest this wonderful realm of Radha-Syama's together.
Since then we have continued with programs here in New Vraja Dhama too (and throughout the summer) when those devotees again reminisce the early days and their on going service from then until now.  It was very special moment to hear from those who served Radha-Syama from the origins … and it is very uplifting to serve along with them day by day as well.  Along with this we are organising a series of festivals for those visiting guests too for  Krishna Valley's 25th "birthday".  The opening event of this series of programs was the Flower festival on 23rd June.  Radha-Syama received Their guests in one of Their strikingly beautiful flower patterned outfits, and along with the many flowers of all colours decorating the altar gave such a wonderful display.  In this way guests could get an idea of how we grow and use them plus getting an insight into the services of the spiritual world too: one of the most popular programs was their taking part in the making of flower garlands and flower jewellery. Since the program concured with the world day of yoga, we had many programs connected with it for those yoga-lovers as well.
However getting back to the 25th anniversary!  Krishna Valley started to develop in 1993, three years before the installation of Radha-Syama.  Nitya-sevawise it means that we only have 3 years left to collect the remaining funds needed to sponsor the future worship of all our Deities in Hungary. This project as you know we would like to conclude by 2021 for Janmastami, being the 25th anniversary of Radha-Syama's installation. You can read in the Nitya-seva brochure that our total investment target is 1 725 000 000 HUF (6 020 000 USD or 4 560 000 GBP), since the earnings from this will cover the cost of the Deities worship throughout the whole year.
The chart below shows that we have collected 772 000 000 HUF (2 690 000 USD or 2 040 000 GBP) so far, which is approximately 45% of the total amount. We have received  48 full payments, 60 devotees or devotee families began full payments, 12 % of the amount comes from previous Nitya-sevas and 40 % from what the yatra receives from Hungarian taxpayers' tax deductible donations.  The incoming donations are invested as soon as possible. The following investments were made in the last 6 month: we have bought 5 properties (3 in the area of the Budapest Temple and 2 in downtown Budapest) from which two are already rented. The Bhaktivedanta College's new yoga centre at the heart of Budapest is also a Nitya-seva investment and in Somogyvámos we have opened a new Guest House, Madhu Bhavan, which can accommodate 4-5 people.
Thank you so much to all those who have already contributed to the best of their ability towards reaching our desired goal!  As you can see there is still much to achieve, so please continue on with your well-wishing prayers and your services, so that we can present this wonderful offering on the 25th birthday of Radha-Syama at Their lotus feet!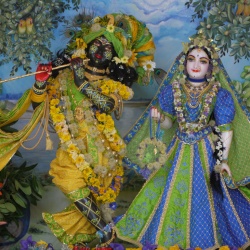 In the month of July you can choose from the following dates as your Nitya-seva days:
2nd, 3rd, 4th, 6th, 7th, 9th, 12th, 15th, 17th, 20th, 21st, 24th, 25th, 26th and 30th
In the name of the Nitya-seva team your servant,
Syamajiu dasi
15th July, 2018., New Vraja Dhama