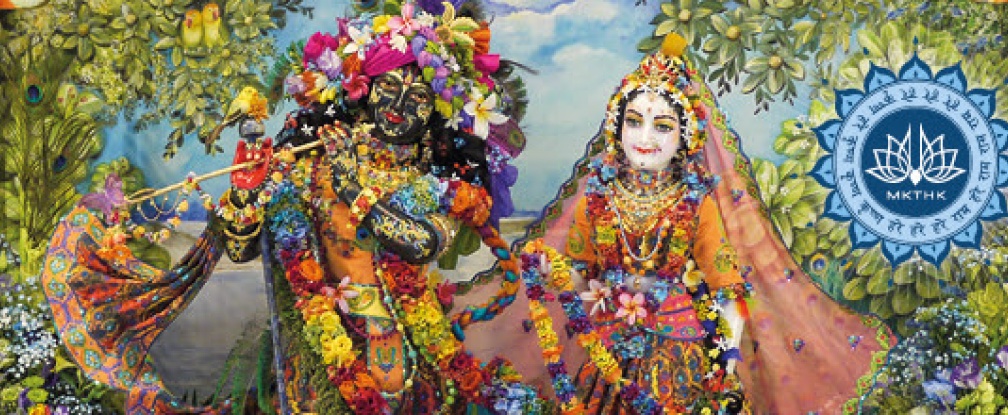 26th issue - Nitya-seva Newsletter
 November, 2017.
 Dear Devotees,
The month of November always begins full of excitement and expectation for the devotees living in Krishna Valley, as the Srila Prabhupada book distribution marathon always starts two weeks earlier than in other centres. The devotees are eagerly waiting to hear if they will be going out distributing books (which includes a two week "warm up") or will be staying and covering those devotees services at the temple who are going out.  All the morning classes are based on preaching, and the devotees thoughts are centered around sankirtana activities.
This is also relevant for those devotees who stay back, since they are also praying for the success of those who "fight in the front lines", and everyone after the morning class is waiting with excitement to hear the previous days scores. They also go out to give Srila Prabhupada's books to the fallen souls when time allows.
At this time devotees begin praying to Govardhana-lal, Who is the sankirtana commander, so that they can give out as many books as possible. Some have their plans for the marathon worked out and they submit them before Giriraja to get His blessings. Many start making and offering sweets to Him to receive His mercy too!  At the end of the month, when the marathon officially starts throughout the whole country, Govardhana-lal even gets His mobile phone out, ready and waiting for the sankirtana devotees text messages. Please pray for those devotees who go out during this time, and we wish all success to everyone of you who also take part!
Last month we received good amounts of Nitya-seva donations. Three devotees raised their Nitya-sevas to the present cost, and a kind devotee from Scotland sponsored a second Nitya-seva, some devotees paying in instalments completed their payments, and we had devotees who started new ones!  And since there are more and more devotees who meditate on participating in this wonderful service, and are collecting the laksmi for sponsoring the worship of Radha-Syama and Gaura-Nitai, besides all of these amounts, we have promises for sponsoring full Nitya-sevas from another 18 devotees or devotee families as well!
So we are eagerly waiting for next year, when we would like to at least double the amount of the Nitya-sevas we received this year… so as we have another month to go until then, if there is anyone out there burning with the desire to donate or to start a contribution in 2017.....you can still go for it!  Whilst being so grateful to all of you for your contributions, including those promised for the future, we would like to thank you all for your positive meditation and prayers.
As the calendar of December shows, we still have a long way to go, since there are many, as much as 24 days are still waiting to be sponsored in December: apart from 7th, 9th, 12th, 14th, 19th, 20th, 28th and 29th all the other days are free to choose!
In the name of the Nitya-seva team your servant,
Syamajiu dasi
10th December, 2017., New Vraja Dhama