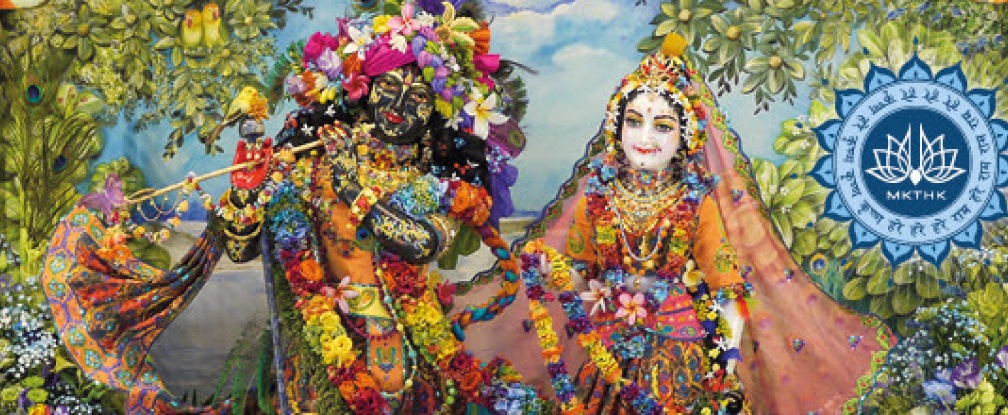 8th issue - Nitya-seva newsletter
May, 2016 - 8th issue
 We celebrated Lord Nrisimha's appearance day at the end of May.  Narasimhadeva is one of New Vraja-dhama's main worshipable Deities, Who came to Krishna Valley in 1999 with His consort Laksmi devi from Jagannatha Puri.  They were installed in 1648 with a pair of Radha-Krishna Deities in Puri, but because they we unable to offer an elaborate worship for Them there, the pujari decided to give Laksmi-Nrisimhadeva to Srila Indradyumna Maharaja. Maharaja already had a Laksmi-Nrisimhadeva Deity, so he was thinking of taking the Deity somewhere where devotees would take proper care of Them.  Laksmi-Nrisimhadeva revealed through different devotees that They would like to come and stay in New Vraja-dhama.
 
We are extremely fortunate to worship such a Deity who has been revered for centuries by so many devotees who offered Them their service, devotion and love.  They are the ones who protect our community from enemies, and the devotees' devotional creeper, from the oppression of their unwanted habits.  Indradyumna Maharaja had two requests when leaving Nrisimhadeva here under the care of the devottes:  one is to offer Them plenty of sweets and the other is to organize a big festival every year for Their pleasure.
 
We try to comply to our promise since then:  Besides the appearance festival of Srimati Radharani, the celebration of Nrisimha Caturdasi is our second largest annual festival in New Vraja-dhama.  This year we offered a pushpa-abhishek for the first time for the pleasure of Laksmi-Nrisimhadeva besides the standard festival offerings.
Next day we celebrated Srila Sivarama Maharaja's Vyasa-puja and Radhe-Syama were wearing Their new, traditional Hungarian-style outfit, embroidered for Them here in Hungary.  Their talented servants made a matching crown for Srimati Radharani and painted Their hands, arms and feet with the same Matyo-patterns.  During the class Maharaja read the original text of the contract that had been made in 1996 Radha-Syama were installed.  It was signed back then by the members of the Hungarian yatra and foreign devotees alike. In the following years more devotees committed themselves to take responsibility for the worship and maintenance of Radha-Syama.  They also promised to take all steps necessary for maintaining Radha-Krishna's service, Their surroundings and pujaris.  Those devotees also participate in Radha-Syama's Seva-puja and Nitya-seva projects according to their capabilities.  From 2002 until January 2016, ten percent of the needed investment has been donated or pledged in Radha-Syama's fund, which is meant to generate enough money to cover the costs of not only Radhe-Syama, but to include all of  the deities in Hungary.  In the next five years, for the 25th anniversary of Radha-Syamasundara's installation we would like to secure the full amount.

 
Srila Sivarama Maharaja, as an ideal leader of the Hungarian yatra, offered the amount of four full Nitya-sevas for the pleasure of the Divine Couple from the profit of the English Nava-vraja-mahima book sales.  Besides that, we have received twelve full Nitya-seva payments as offerings for the twentieth anniversary of Radha-Syama's installation.
Jaya Radha-Syama!
10th June, 2016.