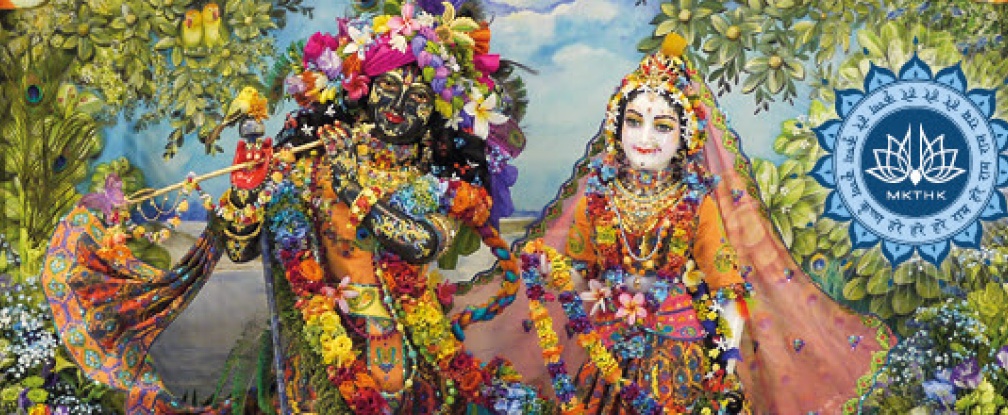 12th issue - Nitya-seva newsletter
September, 2016 - 12th issue
 In the first half of September we celebrated the sweetest festival of Krishna Valley:  the appearance day of Srimati Radharani.  It's hard to describe the atmosphere… one has to be here personally to experience the mood of this special festival.  Radha-Syama have received a new outfit and the devotees made a matching backdrop out of ribbons and flowers:  and yes, the elephants were also made of flowers!  They had abhiseka, extra food offerings, we had wonderful kirtanas, and in the evening another fascinating darshan in a completely different mood.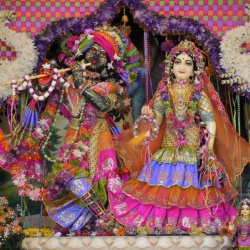 The week before the festival we held the first two Nitya-seva / Seva-puja donor programs:   the first was at Budapest for the local devotees and those who live in nearby cities, and the second one was here in New Vraja-dhama, which included not only the local devotees but others attending from other countries, who came for the festival.
 
The main purpose of these programs was to thank all of you, dear devotees, for your regular support towards the maintenance of Radha-Syama.  Also we wanted to give you a report on the Nitya-seva project too:  how the whole system is working, what happens to your donations, who are responsible for different management areas and how the proceeds of the Nitya-seva investments are spent on Radha-Syama's worship.
 
We were happy to hear you liked the video about the Daily Worship of Radha-Syama.  Of course it is normal practice for those devotees who perform regular pujari service for Radha-Syamasundara.  But since many devotees don't have this privilege, we wanted to show all of you what happens on Their altar and in Their kitchen every day – although it was impossible to fit everything into twenty minutes.
 
Twenty full-time devotees take part in Their daily worship from 3:30 am up until 8:30-9 pm.  They wake Them up, bathe and dress Them twice a day, cook six offerings for Them, do arati after each offering.  These altar and kitchen services are helped from the background by those devotees who do the transfer services, they also make the garlands and keep the pujari areas clean.  In the garden another set of devotees produce and pick Their vegetables, fruit and flowers for offerings and decorating the altar.  Along with the Goshala another group of devotees make sure They get the required amount of milk, yoghurt and other milk products.
This is a serious effort, but this picture is not complete without all of you, since all this worship is only possible with your background efforts: by your contribution and donations offered with love. In this way Radha-Syama are not only the centre of those devotees' lives who live here in Krishna Valley, but also yours too. Although physically situated at a distance from Them, still you are dedicating your lives to Their service. Thank you so much!
Jaya Radha-Syama!
10th October, 2016. New Vraja Dhama